Where does "...is five" come from?
It's from the foreward to a collection of poems by E.E. Cummings titled
is 5
. Cummings writes, "Whereas nonmakers must content themselves with the merely undeniable fact that two times to is four, he rejoices in a purely irresistible truth (to be found, in abbreviated costume, upon
the title page of the present volume)." That is to say, to poets (and makers, I like to add), sometimes two plus two is five.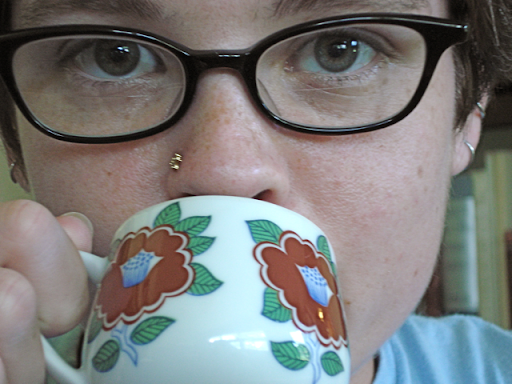 About me
Most of the time, I'm a librarian by day and a maker whenever I get the chance. I work mostly with fiber -- sewing, embroidering and knitting -- but sometimes with other media, and food. I love to eat, and love to cook and feed others. I'm less consistent with paint and pencil, and I'm absolutely rubbish at paper crafts, although I love them. I love glue and scissors. I currently live in Georgia, although that changes frequently, with my husband and adorable dog, who you'll see on the pages of this blog (that doesn't change frequently). We're about to add a baby boy to the mix!
I also read a lot, and you can find me on www.foreveryoungadult.com -- a book blog for readers of YA literature who are a little less Y and a little more A.